You have selected English as the language for this page. Unfortunately, your requested product is currently only available in German.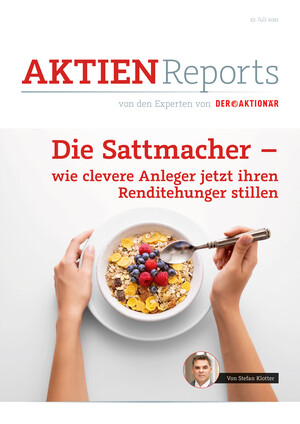 Die Sattmacher - wie clevere Anleger jetzt ihren Renditehunger stillen
Date of publication: 7/27/2021
Pages: 7
Author: Stefan Klotter
Ist die aktuelle Korrektur an den Märkten nur ein Strohfeuer, das wieder einmal mit billigem Geld gelöscht werden wird oder wird es die gerade angelaufene Konjunktur sein, die schneller als gedacht ins Stottern gerät? Die Analysten geizen nicht mit Buzzwords für die eine und die andere Richtung. Inflationsängste, Delta-Variante, Zinsanstieg bei längerfristigen Anleihen, gesunde Korrektur, Reopening-Boom usw. Wie soll sich der mündige Anleger positionieren?

In volatilen Zeiten ist die Konstante eine tragfähige Ausgangsplattform für Anlageentscheidungen. Konjunkturunsensible Titel sind im Gegensatz zu Fast Growern, Big-Tech oder Zyklikern weitgehend immun gegen Marktschwankungen. Denn getrunken, geputzt oder gegessen wird immer. Charttechnik-Experte und Börsenbriefautor Stefan Klotter beleuchtet im neuen Aktienreport ein Unternehmen aus der Kategorie Sattmacher, das bei der aktuellen Marktlage als idealer Kaufkandidat für Investoren gilt. Sie wollen Ihren Renditehunger stillen? Dann laden Sie jetzt die aktuelle Ausgabe herunter.

Preise können je nach Land variieren. Der Rechnungsbetrag ist innerhalb von 14 Tagen ab Bestelleingang zu begleichen.