You have selected English as the language for this page. Unfortunately, your requested product is currently only available in German.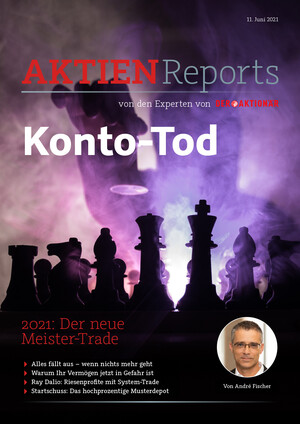 Konto-Tod
Date of publication: 6/11/2021
Pages: 31
Author: André Fischer
Der Anlage-Guru Ray Dalio befürchtet für die nächsten Monate und Jahre eine erhöhte Gefahr von politischen Großkonflikten. Dabei sei ein Kalter Krieg zwischen den USA und China zu erwarten. Bargeld (und Bankeinlagen) und Anleihen seien unter diesen Umständen keine sicheren Anlagen mehr. Im billionenschweren Markt für Anleihen könnte es laut Dalio sogar zu einem gefährlichen Abverkaufsszenario kommen, was eine Welle von Kreditausfällen nach sich ziehen dürfte.

Lesen Sie jetzt im neuen 31-seitigen Aktienreport "Konto-Tod", warum der milliardenschwere Hedgefonds-Manager mit baldigen Kapitalkontrollen rechnet und was eine derartige Zuspitzung für die Inhaber von Bankeinlagen konkret bedeuten würde.

Mit enthalten im Report: der neue Meister-Trade des Jahres 2021, der eine Umschichtung von Bankeinlagen und Anleihen in die aussichtsreichste Anlageklasse der nahen Zukunft vorsieht. Dazu gehört auch ein Musterdepot mit sieben ausgesuchten Werten. Abgerundet wird der Report mit einem 21-Punkte-Plan zum Schutz vor Konteneinfrierungen, Hackerangriffen auf Bankeninfrastruktur und Börsenschließungen.

Preise können je nach Land variieren. Der Rechnungsbetrag ist innerhalb von 14 Tagen ab Bestelleingang zu begleichen.