You have selected English as the language for this page. Unfortunately, your requested product is currently only available in German.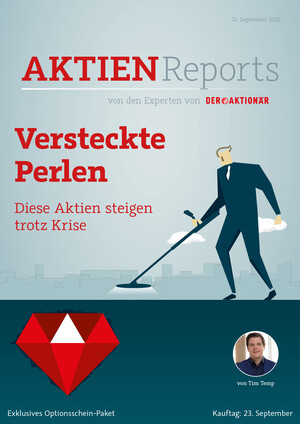 Versteckte Perlen: Diese Aktien steigen trotz Krise
Date of publication: 9/21/2022
Pages: 8
Author: Tim Temp
Der Herbst ist da und bislang ist das aktuelle Börsenjahr für Anleger wahrlich kein Gutes. Die meisten Aktien notieren 10, 20 oder mehr Prozent unter ihrem Schlusskurs zum Jahresende 2021. Dabei scheint es fast allen Branchen gleich schlecht zu gehen. Selbst Aktien, die lange als unverwüstlich angesehen wurden, mussten herbe Verluste verkraften. Gibt es überhaupt noch Qualitätsaktien, die sich nachhaltig gegen den schlechten Gesamtmarkt stemmen?

Die Antwort lautet ganz klar: Ja, es gibt weiterhin hervorragende Aktien, die trotz Krise steigen! Diese Konzerne glänzen nicht nur operativ mit soliden Ergebnissen trotz schwieriger Wirtschaftslage, sondern auch ihre Aktien steigen weiter und zahlen verlässlich Dividende. In diesem exklusiven Aktien-Report hat sich DER AKTIONÄR auf die Suche nach genau diesen Perlen in schwierigen Zeiten gemacht, um Ihnen als Anleger auch in turbulenten Zeiten lukrative Chancen aufzuzeigen.

Nach einem mehrstufigen Prüfungs- und Screening-Prozess haben es 4 Aktien in den neuen Aktien-Report "Versteckte Perlen – diese Aktien steigen trotz Krise" geschafft. Für die Extraportion Rendite erhalten Sie zusätzlich passende Optionsscheine mit konkreten Ein- und Ausstiegspunkten. Für die Umsetzung werden mindestens 500 Euro pro Wertpapier empfohlen.

Preise können je nach Land variieren. Der Rechnungsbetrag ist innerhalb von 14 Tagen ab Bestelleingang zu begleichen.