You have selected English as the language for this page. Unfortunately, your requested product is currently only available in German.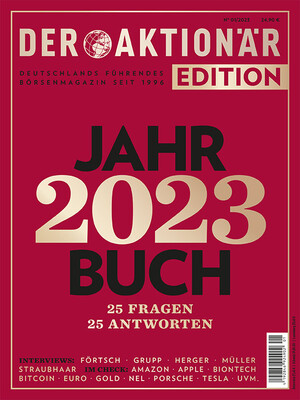 DER AKTIONÄR EDITION 01/23
Date of publication: 12/16/2022
Pages: 276
Author: Börsenmedien AG
An der Börse wird die Zukunft gehandelt – was also erwartet Anleger 2023?

Ein oft unwirklich scheinendes Jahr geht zu Ende – viele können es nicht erwarten. Genug von 2022, genug Krisen, genug schlechte Nachrichten! Doch wie geht es weiter im nächsten Jahr, worauf sollten sich Anleger gefasst machen? Die Experten von DER AKTIONÄR haben sich den aktuell brennendsten Themen und Branchen gewidmet: Wer im Branchenvergleich gewinnt, wo künftig das meiste Potenzial liegt und was Anleger im nächsten Jahr auf dem Schirm haben sollten, lesen Sie im neuen Jahrbuch von DER AKTIONÄR.

In der 276 Seiten starken Sonderausgabe von DER AKTIONÄR erwarten Sie fundierte Antworten und Recherchen zu 25 brennenden Fragen, die ausgewählte DAX-Unternehmen, Big Tech, Biotechnologie, Wasserstoff, Auto-Aktien und vieles mehr betreffen. Außerdem enthält das Jahrbuch exklusive Interviews – unter anderem mit Bernd Förtsch, Wolfgang Grupp und Dr. Mario Herger –, einen Brokervergleich und die 30 weltweit wichtigsten Aktien im AKTIONÄR-Check.

Preise können je nach Land variieren. Der Rechnungsbetrag ist innerhalb von 14 Tagen ab Bestelleingang zu begleichen.